This post is coming a few days late! But I am really excited to share last week's adventures, as it consisted of much more than being in a forest!
Since the moment I first visited Scotland, I've heard the same question: "Have you been to Dunnet Head yet??" Up until last week, the answer was no!
What's the big deal with Dunnet Head? I guess partially, it's like bragging rights, because Dunnet Head is the most northerly point on mainland Scotland. Secondly, it's F-ING GORGEOUS! If you like oceans, if you like dramatic cliffs, if you like beaches... then you should see this place.
So last Sunday, we woke up and starting figuring out which forest we wanted to visit for my weekly Forest Year goal. I discovered a place called Big Burn, which supposedly was a hidden gem that included a beautiful waterfall (spoiler: the reports were right!). It was "up north" a direction in Scotland I have never been! I'm not sure why, but we have been exclusively visiting west/south/eastern areas around Inverness. So after looking at the map, I said "what if we went to the top of Scotland?" and almost immediately, Wolfy agreed!
So we packed our snacks, and headed out into the sunshine (we were blessed with a full day of sun which was wonderful!)
First stop: Big Burn in Golspie
Since we knew we had a looooooooong drive ahead of us, we only spent about 45 minutes in this forest - but I gave myself a break since the past few weeks I've been spending several hours in forests.
It was still so peaceful - but don't let the sun trick you - it was -2C! There was frost on the ground anywhere the shadows rested.
After we got our forest/waterfall fix, we hit the road! We decided to add John O' Groats to our itinerary (as it is known as the "most northern village of mainland Scotland). Why not?
The drive to John O' Groats is a spectacular coastal drive, where the blue ocean juts up against the green farmlands dotted with happy sheep. Very "Scotland!"
Finally to John O' Groats, we stopped to walk about and stretch our legs - the wind was absolutely fierce, and my face and hands were numb in about 15 minutes.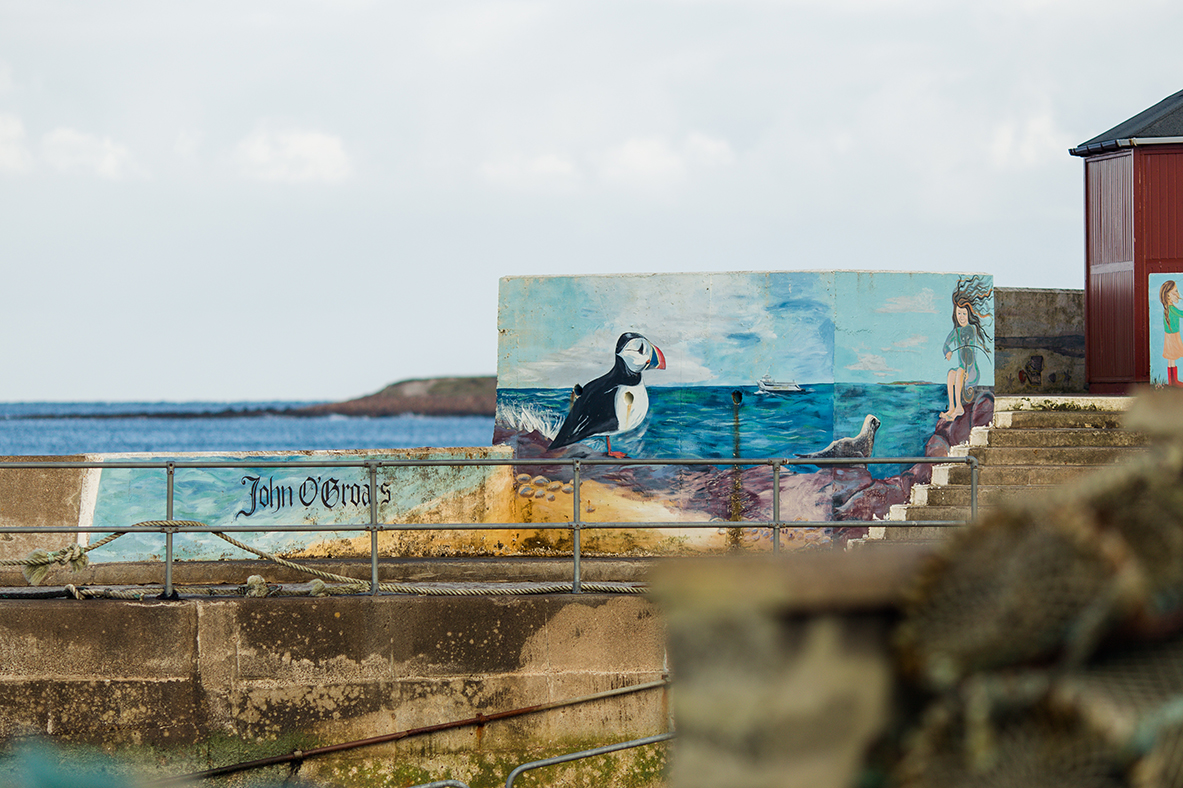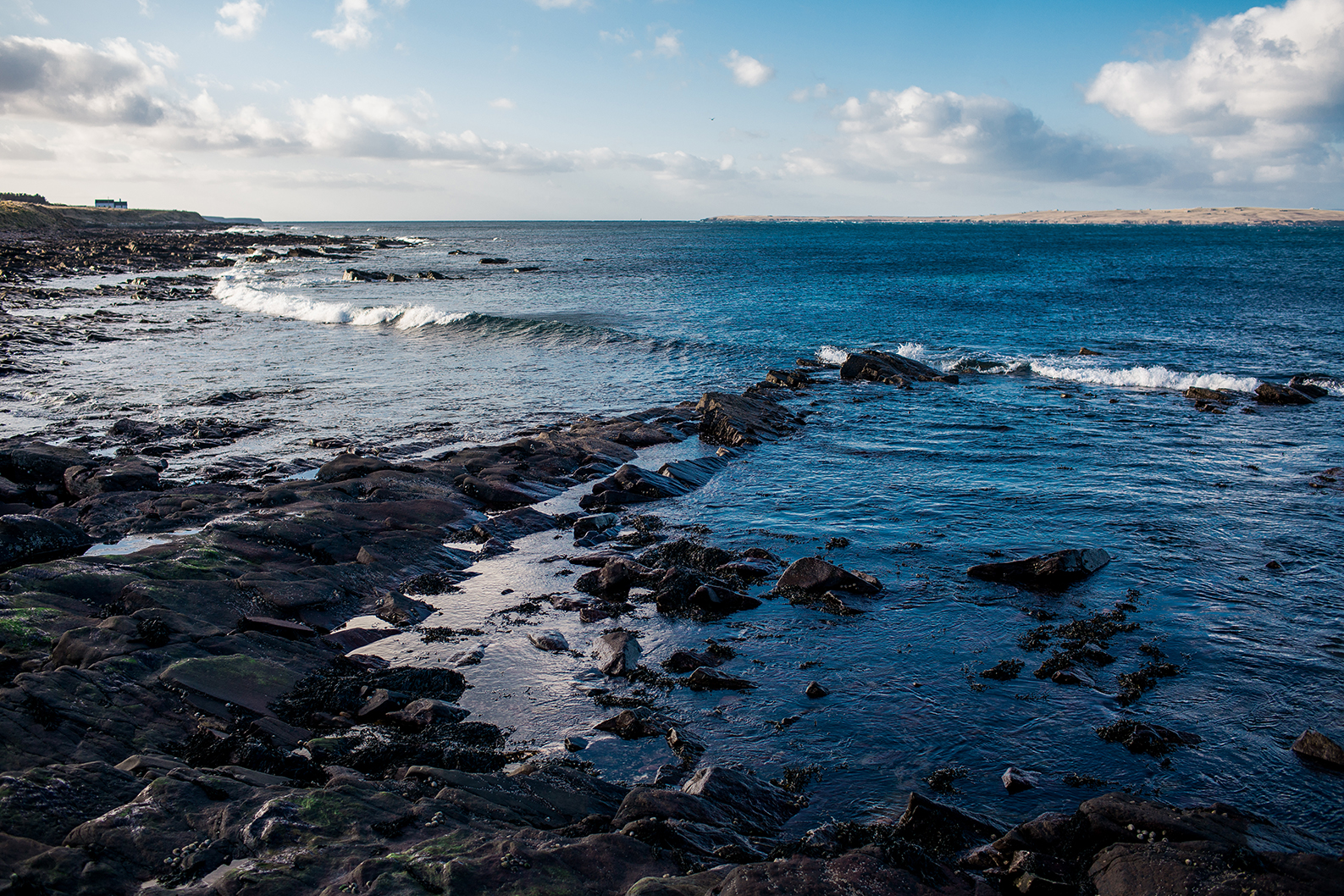 You can see Stroma on the horizon, an uninhabited island off the coast, and just behind that you'll find the rest of the Orkney Islands, accessible only by ferry. We hope to visit them in the future when we have more time to stay.
We headed back onto the road towards Dunnet Head!
Thanks to our timing of arriving late afternoon, it was one of the most stunning views I have seen in Scotland. The drama of the huge cliffs rising out of the ocean reminded me of my trip to the Cliffs of Moher in Ireland.
Despite being absolutely enthralled by the view, it was so incredibly windy that it was hard to breathe. So after about 20 minutes, we decided to visit the local beach before the sun set.
The sun was creating such a beautiful warm glow all around us, and we spent some time collecting shells and rocks on the shore, talking and laughing. By now we were starving, so we headed back to the car for a liesurely drive home. I broke out the snacks, and enjoyed the sunset along the coast.
It was a spectacular spectrum of colors, so I couldn't help but take photos!
On the way home, we found this beautiful little spot with a lake and mountains, and we decided to pull over and sit on the bank to enjoy the last of the light. After a long day of driving and excitement, it was wonderful to soak in this peaceful place.
I hope you enjoyed the journey this week!